ob_start("ob_gzhandler"); ?>
Historical Maps of North Haven Island and Environs, Maine
---
Penobscot Bay Cartography Before 1776
Coastal Maine, the Penobscot Bay region known initially as "Norumbega", and the Fox Islands are not accurately represented on charts until 1776 (Des Barres, below). Florentine navigator Giovanni de Verrazano, sailing under a French flag in 1524, was the first explorer to apply the label "Norembeque" to New England generally (it was originally construed as the name of Rhode Island proper, i.e. Aquidneck Island [Newport]). Within a decade, pursuant to various misinterpretations, "Norembeque" drifted northward on virtually all charts to become localized in the Penobscot River hinterland, applied sometimes to a settlement, otherwise to the entire region. Verrazano, who never sailed north of Cape Cod, had hinted that Norembeque was wealthy — and a pilot for Jacques Cartier, writing in 1544, confirmed the notion: "Fifteen leagues within this river there is a city called Norombegue with clever inhabitants and a mass of peltries of all kinds of beasts. The citizens dress in furs, wearing sable cloaks. . . The people use many words which sound like Latin and worship the sun, and they are fair people and tall." Sixty years later, Samuel de Champlain recited, then punctured, that observation: a "land of oranges, almonds, sweet smelling trees and gold … with many islands at its mouth," inhabited by "men who are adroit and skilful, and who use cotton cloth... Those who have told me of this place have their information from others no better informed than themselves." But the Norumbega fable persisted well into the seventeenth century, luring captains to the river and thereby acquainting them with the Bay.

"Norumbega" (Norembegue, Norombeg, Norumbeque, etc.) derives from Latinized forms of the Bavarian city Nuremberg, a citadel of enlightenment, deemed in the "natural order of things", the Imago Mundi, to have counterparts in new lands. As Norumbega became increasingly associated with the Penobscot, Arcadia or Larcadia became the prevalent sixteenth-century term for Maine itself (sometimes more narrowly for Downeast Maine, between Penobscot and Passamaquoddy Bays). In the seventeenth and eighteenth centuries, Arcadia too drifted to the north, to become associated with the Francophone settlers of Maine, Prince Edward Island, and "Acadia" (renamed Nova Scotia after France ceded the colony, which included modern New Brunswick, to the British in 1713). Like "Norumbega", "Arcadia" had a continental namesake, the mountainous region that represented the Peloponnesian ideal of rustic contentment. In the ethnic cleansing of 1755-1763, three-quarters of the Acadian population in the maritimes were expelled or murdered by the British; their lands were soon occupied by the huge influx of Loyalists who fled the American rebellion.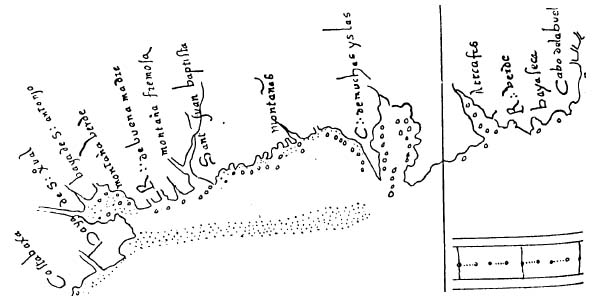 On information from Estevâo Gomes, a Portuguese sailing for Spain (who renamed every landmass he saw, including Maine, Tiera de Estevā Gomez), Italian and Spanish maps from 1525 onward identify Penobscot Bay as the Cabo de muchas yslas, "Cape of Many Islands", and the Penobscot River as El Rio de Las Gamas, "Deer River", due to the abundance of game.
All surviving sixteenth-century charts of the Bay are rudimentary. Cardinal Salviati's copy of Diogo Ribeiro's 1525 Planisphere (world map, left) renders Penobscot Bay more accurately than any image until Champlain in 1607. Most nations deemed nautical charts to be state secrets; in a high-stakes environment, as sailors competed to locate a passage to east Asian riches (spices and gold), detailed maps may have circulated only in very close circles, and not survived. Rumor mongering encouraged competitors to exhaust their resources in useless quests.







Corneille van Wyfliet's 1597 map illustrates the deterioration and blind repetition of regional cartography during the sixteenth century. Note the fabulous city of Norombega, upriver.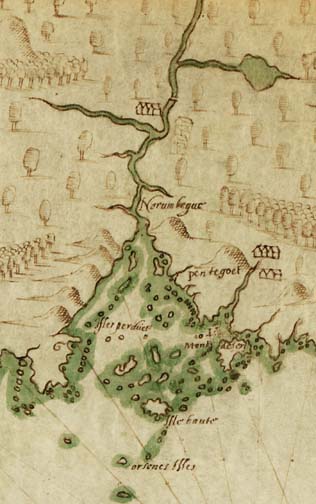 English captain Martin Pring, who allegedly gave the Fox Islands their name, surveyed the Maine coast in 1603 and 1606; his maps are lost. Scholars debate whether he ever actually entered Penobscot Bay.
With Champlain (1607, left), we discover the rudiments of scientific approach, in a semblance of the true disposition of islands in the Bay, along with "Isle haute", "Isle Mont desert", Rockland Harbor, a remarkably accurate Owls Head, and the "Isles perdues" (Islesboro). The mythic Norumbega metropole is replaced by an Indian village. Pentegoet (Castine) is exactly located. The Fox Islands and their outliers are recognized, albeit imprecisely. Most early explorers employed professional cartographers to record their observations, but Champlain personally designed and drew his own charts.
Indians called the great river Pemetig, "the place with islands standing before it." In 1604 Champlain abandoned the conventional handle "Rivière de Norenbègue" and renamed it "Peemtegouet" (Pemetigoet, Pentegoet), "the place in the river where rapids are born." The English preferred "Penobscot," derived from the Indian Penaouasket, "the place where the earth is covered with stones."


Astonishingly, subsequent seventeenth- and early eighteenth-century representations of the Bay do not improve — indeed, they deteriorate, suggesting a loss of familiarity, the collapse of interest in "Norumbega" commerce, and the hostility of both French and Indians: witness (random examples) Adriaen Block's map of the North American Atlantic coast dated 1614 (Penobscot Bay is at far right, on the border of Novæ Franciæ); Captain John Smith's New England from the same year, which conveys a disorderly cacophony of islands in "Pembrocks Bay"; Henry Popple's celebrated Map of the British Empire in America of 1733 (showing "Pigwacket Bay"); the detailed 1754 Plan of Kennebeck & Sagadahock Rivers, & Country adjacent illustrating the salient portion of the Bay; George-Louis Le Rouge's 1755 Canada et Louisiane; or Thomas Jefferys' 1761 Accurate Map of His Majesty's Province of New Hampshire in New England, ... together with the Adjacent Countries. Gross errors, such as the placement of Mount Desert in the vicinity of Metinic Island, recur on many charts and reflect an absence of fresh data.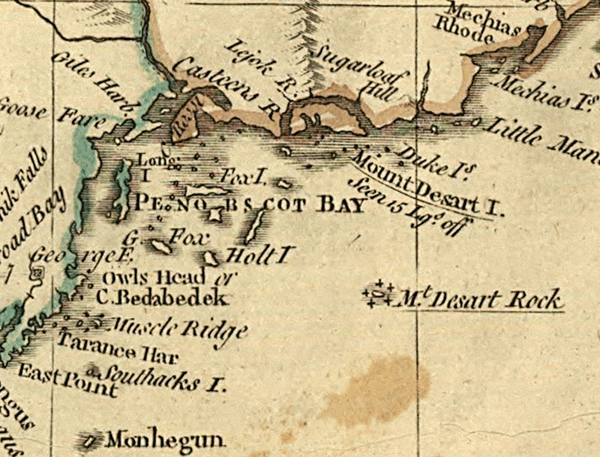 The surveys of the Maine coast conducted by Samuel Holland in the early 1770s, impelled by intensifying political concerns about New England, present the great leap forward in cartographic accuracy (Des Barres, below). The aforementioned Thomas Jefferys, Geographer to the King, may have been privy to bits of Holland's work; his 1775 chart (left) reveals a new awareness, with much modern placenaming: Rossi (Cape Rosier), Casteen, Owls Head, Muscle Ridge, Tarance (Tenants) Harbor, Holt Island (Isle au Haut), a reasonably accurate location and depiction of Long Island (Islesboro), Mount Desart Rock, and Monhegun, the representation of Mount Desart as a true island in an appropriate spot — and, for the first time, several Fox Islands. But one year later, when Holland was published, all prior maps were rendered obsolete.
---
The Maps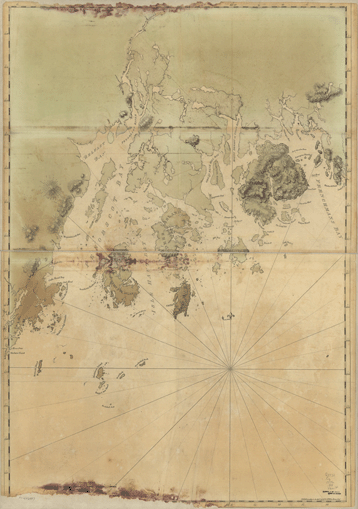 5.0Mb ZIP

PENOBSCOT BAY
"Publish'd according to Act April 24, 1776 by J.F.W.Des Barres Esq.r"


Des Barres, Joseph Frederick Wallet [or Walsh], Colonel, 1721(?)-1824, British army officer, surveyor, civil servant, and artist, who served early in his career under Captain James Cook, and taught Cook the rudiments of survey. An excellent biographical sketch appears here. Des Barres' charts of the Maine coast, probably based upon surveys by Samuel Holland, were frequently reprinted with amendments (see next two maps), and served as the basis of most Penobscot Bay cartography until the mid-nineteenth century. Note that the only depth soundings that appear on this entire sheet are of Southern Harbor, probably indicating the importance of fishing off North Haven. Observe also that the few North Haven settlements cluster around "Pulpit Cove" a.k.a. the "Northern" Harbor, as well as Kent Cove. As trouble mounted in the colonies, the British were desperate for better maps, and Des Barres hastened his sheets to press, which may explain some of the peculiar lacunae in this chart. Columbia Encyclopedia summarizes: "[Des Barres] was born of French parents (probably in Switzerland), was educated at Basel and in Great Britain, and became a British citizen. He served with British forces in America in the French and Indian War, rendering valuable service as an engineer in the taking of Quebec. He later spent 10 years surveying the coasts of Nova Scotia and another 10 years in London editing his data, incorporating the surveys of others, and supervising the engraving of the plates; the result was The Atlantic Neptune, which appeared in successive issues (1777-81) and was used by British seamen in American waters for three generations. The plates are justly famous for their artistic excellence, and they are collector's items; the largest collection is found in the U.S. Library of Congress. Des Barres was later lieutenant governor of Cape Breton (1784-1805) and then of Prince Edward Island (1805-1813)."

Samuel Johannes Holland (1728-1801) was born in the Netherlands, served in the Dutch artillery, but emigrated to England and thence to North America in 1756, joining the King's Royal Rifle Corps (the 'Royal Americans') as an engineer. He prepared maps of upper New York and Nova Scotia for use against the French. Young James Cook (the 'Great Navigator' himself, then the master, second in command, of H. M. S. Pembroke, a 60-gun ship of the line) met Holland on a Cape Breton Island beach, where Cook spied "an officer carrying a small square table mounted on a tripod. The officer would set the table down, sight along the top in many directions, and then write in a notebook. The two men struck up a conversation and Cook discovered that his chance companion was Captain Samuel Holland," who then instructed Cook in the use of plane tables. Assisted by Cook, Holland proceeded to survey the Saint Lawrence Gulf and River; "Cook later used the techniques and systems taught to him by Holland in his own cartographic work in the South Pacific." Holland returned to London in 1762 and proposed a survey of all British possessions in North America in order to facilitate settlement; in 1764 he was appointed Surveyor-General of Quebec and the Northern District of America. From 1770 through 1774, Holland surveyed the coast between New Jersey and Maine. After the revolution (which he nearly joined), he enjoyed an illustrious career in British Canada as a cartographer, astronomer, farmer, and politician; a detailed sketch of his life appears here.

It is unclear whether this chart of the Bay reflects the observations of Holland or Des Barres. Credit is generally accorded to Holland, acknowledged today and in his own time as an immensely skilled, groundbreaking mapmaker; and Des Barres himself, in his magnum opus "Charts of the coast and harbors of New England" (London, 1781), states that his charts are "from surveys taken by Saml Holland Esqr Surveyor General of Lands for the Northern District of North America." But both men surveyed the Maine coast.










11.0Mb ZIP
PENOBSCOT BAY
Lower sheets: "Publishd according to Act of Parliament Aug.st 17.th 1776, by J.F.W.Des Barres Esq.r"
Upper sheets: "Publishd as the Act directs, Sept.r 3.rd 1776 by I.F.W.Des Barres Esq.r"
1777

A delicate variant rendering of Des Barres, with contour hashes and somewhat greater detail, as well as discreet corrections. Two nearly identical sheets in the Boston Public Library are attributed to the Atlantic Neptune of 1777.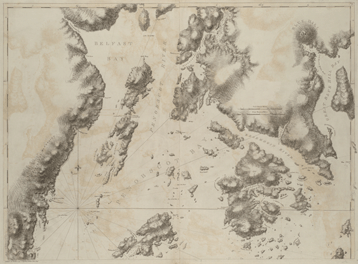 8.4Mb ZIP
PENOBSCOT BAY
Upper sheets: "Publishd as the Act directs, Sept.r 3.rd 1776 by I.F.W.Des Barres Esq.r"
1781

A third, very bold version, upper sheets only, which appeared in Des Barres' Charts of the coast and harbors of New England, volume 3, sheet 40. Additional navigational information, e.g. "Dry at low water". Habitations and property lines are identical to 1777, above, and less clear. It is apparent, on close comparison, that Des Barres' map was copied by hand through its many iterations. (Map courtesy Kerry Hardy)


---


.7Mb

"Map of the
District of Maine,
Massachusetts
Compiled from Actual Surveys
made by Order of the General Court
and under the inspection of Agents of their appointment
by Osgood Carleton.
Engra.d by J.Callender W.S.Hill Boston."
circa 1799


A lovely example of political mapping at the turn of the nineteenth century (detail only; view the full map here). The Fox Islands are insignificant in this administrative context.


---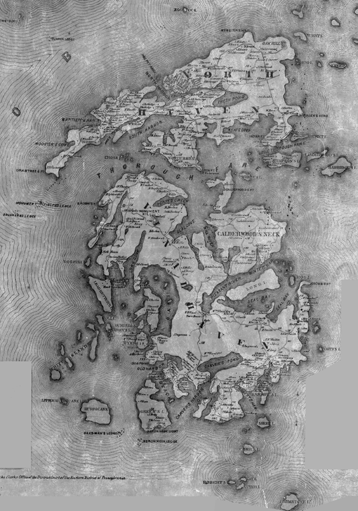 2.9Mb ZIP

Details of
"MAP OF WALDO COUNTY
MAINE
From actual Surveys by D. KELSEY & D. H. DAVISON
under the direction of J. CHACE Jr. & Co. Publishers.
Portland Me. & 23 North 6th St. Philadelphia
D. S. STINSON S. GARDNER I. J. BATCHELOR J. KNOX ASSISTANT PUBLISHERS
1859
Engraved, Colored & Mounted by W. H. REASE Cor. 4th & Chest. Sts. Philadelphia Pa."


J. Chace Jr.'s celebrated Waldo County map of 1859, which located the residences of landowners as well as churches and schools in every Waldo township (Knox County, formed one year later, was cobbled from towns in Waldo and Lincoln Counties). The original map was hand-colored, and most extant copies have suffered considerable damage, e.g. a specimen in the Library of Congress (16Mb; a high-resolution scan at the LoC is 50Mb). Measuring 69 x 53 inches, the Waldo map is cluttered with scenic views (e.g. the imposing "Asylum for the Insane, Augusta", the arresting "Waldo Co. Jail & Jailor's Dwelling", a panorama of county seat Belfast from a bucolic vantage across Belfast Bay, with foreground coach and prancing pair, or gentry strolling), together with directories of commercial establishments, lists of downtown merchants and professionals, detailed city plans, a flowery cartouche and ornate acanthus borders. Privately printed and sold by subscription, additional income accrued from advertisements ("Carriage Making and Repairing Done in a Neat and Substantial Manner..."), and from five sketches of the homes of leading citizens (most lived in the Fox Islands: Captains John Carver and Timothy Lane of Vinalhaven, and the Hon. Reuben Leadbetter of Leadbetter's Island). In a pictograph of "H. McGilvery's Store, Stockton", Willard Mudgett's far more modest shop next door intrudes into half the picture; a louche clerk (Mudgett himself?) leans against the door jamb, gazing slyly over at McGilvery, which looks like it is guarded by federal marshals (or vigilant citizenry ... or just some farmers standing around); a half-dozen children peer from upper windows of McGilvery, obviously aghast at McGilvery's squander of money on this ad. One suspects a story here.

Waldo joined a succession of more than a dozen similar Maine county maps, issued by different publishers in the decade preceding the Civil War. Dave Allen offers the following background at his site:

Few details of this map's origins are known, but we do know the general methods used for these projects. Roads were measured with a wheel odometer, [a pushed] wheelbarrow-like device ... or one drawn by horse and buggy. The surveyor would ask the names of farmstead owners as he passed by, and would surely add a brief sales pitch for the new map... after all, the map would carry the name of the resident, engraved upon it...

The original road surveys were the most comprehensive yet made... Publication was announced in local newspapers, and local offices were set up where advance orders for the new map could be taken. A typical mid-1850s price was five dollars per copy. Prominent citizens allowed their names to be used in the map's advertisements, testifying to the merits of the map, and no doubt assuring it of financial success. Pictures of the homes of prominent citizens were added for a fee.

The map was printed on four separate sheets which were assembled and glued together onto a cloth backing. Each copy was then hand-colored in several different hues, varnished, and mounted on wooden rollers.

Although the high mainland standard of topographical accuracy declines sharply in the islands, this snapshot of 1859 residential names and locations is charming and, paired with F. W. Dorr's remarkable 1867-71 maps (below), uniquely informative. (Detail maps courtesy Tom Elliott)


---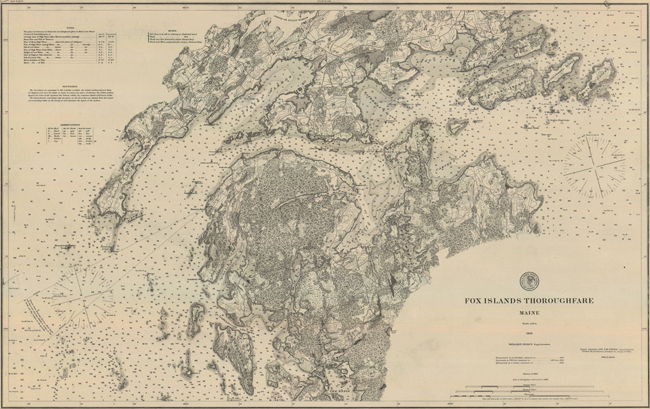 10.5Mb ZIP

"UNITED STATES COAST AND GEODETIC SURVEY
FOX ISLANDS THOROUGHFARE
MAINE
Scale 1/20,000
1868
BENJAMIN PEIRCE Superintendent
Triangulation by G.A.Fairfield Assistant in 1860
Topography by F.W.Dorr Assistant in 1867 and 1868
Hydrography by C.Junken Assistant in 1868
Edition of 1886
Aids to Navigation corrected to 1886
No.311(a)
Issued September 1886 F.M.THORN Superintendent
Verified: B.A.Colonna Assistant in charge of Office
Price 20 Cents"


The first USCGS chart of the Fox Islands Thoroughfare, which incorporated Frederic[k] W. Dorr's finely detailed topography (later abandoned), in addition to nautical soundings in fathoms. A few words are appropriate about Dorr, whose name is associated with many seminal Fox Islands maps. Dorr was born around 1830, probably in the Ellsworth-Winterport-Bangor area of Maine. With a few other Coast Surveyors, Dorr served throughout the Civil War as a combat topographer and reconnaissance specialist attached to various units of the Union Army, operating between the opposing forces to scout the line of advance and "approach the Confederate works as nearly as possible [to] study and determine [their] general form and position." A civilian, Dorr was accorded the nominal rank of Captain, to protect him from summary execution as a spy in case of capture. He plotted Sherman's Carolinas drive from Savannah to Raleigh, and was present, one week after Appomattox, at the surrender of the bulk of Confederate forces by Joe Johnston (Lee's predecessor as commander in chief, until Johnston was wounded in 1862). Dorr's famous Battlefield of Chattanooga ranks among the one or two best examples of Civil War topographical work. Dorr's chef d'oeuvre in Penobscot Bay is his magnificent North Haven map of 1867, below. During the war Dorr contracted the malaria from which he eventually died, around 1870. John W. Donn, another Coast Surveyor, wrote of Dorr in his memoir of their war experience: Having "shared with [Dorr] all the hazards and difficulties attending topographical service in an enemy's country,… it is due to his memory to say that no man stood up more bravely and patiently in the performance of a duty from which no glory was to be gained, no promotion was promised, nor expected, and for which not even adequate pecuniary compensation was given. Through all his services, which were second to none in his line of duty, he was not even rewarded by personal mention and only shared in the general praise accorded to the Coast Survey Service at large."


---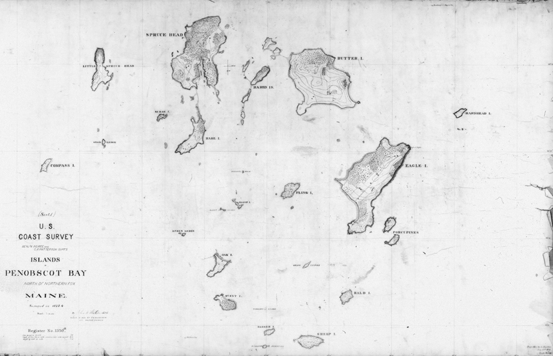 8.0Mb ZIP

"U.S. COAST SURVEY
Benj'n Peirce and C. P. Patterson Supt's
ISLANDS IN PENOBSCOT BAY
NORTH OF NORTHERN FOX
MAINE
Surveyed in 1873-4
Scale 1/10.000
By John W. McClintock
Aided in 1874 by T. A. Harrison and Walter Fraser
Register No 1350a."


Compass, Little Spruce Head, Spruce Head, "Bare", "Bared", Butter, Fling, Eagle, Oak, Burnt, and nearby islands.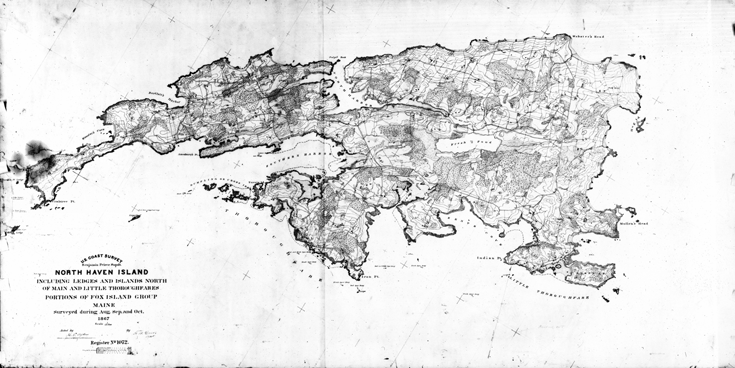 5.8Mb ZIP
"U.S. COAST SURVEY
Benjamin Peirce Supdt.
NORTH HAVEN ISLAND
INCLUDING LEDGES AND ISLANDS NORTH
OF MAIN AND LITTLE THOROUGHFARES
PORTIONS OF FOX ISLAND GROUP
MAINE
Surveyed during Aug. Sep. and Oct.
1867
Scale 1/10.000
Aided by H. G. Ogden By F. W. Dorr
Register No 1072."

F. W. Dorr's U. S. Coast Survey of 1867 — the most important map of North Haven, and a primary reference for modern surveyors. Remarkably detailed, it displays every structure, road, and stone wall, as well as forested and cleared lands, watercourses, etc. Invaluable for the interpretation of old deeds and property boundaries. Note how clearly property lines in the rural district pivot off the axis of Compass Island.
Dorr apparently hailed from the lower Penobscot River (Ellsworth-Bangor) area. After two decades "away", charting battlefields and the harbors of the East Coast as far as St. Augustine, he may have felt a particular tug here. He explored deeply, inconceivable absent forthcoming local cooperation, and obtained an immaculate result. The island was largely clear-cut in the 1860s, its basic architecture and contours much more exposed and readily perceived, the land effectively "managed" and growth quelled by grazing livestock.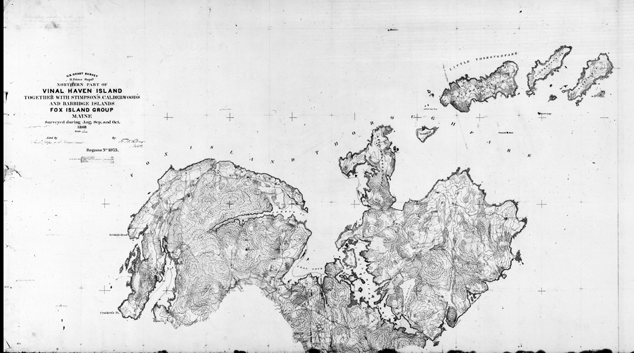 6.5Mb ZIP
"U.S. COAST SURVEY
B. Peirce Supdt.
NORTHERN PART OF
VINAL HAVEN ISLAND
TOGETHER WITH STIMPSON'S CALDERWOOD'S
AND BABBIDGE ISLANDS
FOX ISLAND GROUP
MAINE
Surveyed during Aug. Sep. and Oct.
1868
Scale 1/10.000
Aided by H. G. Ogden & J. Hergesheimer By F. W. Dorr Asst.
Register No 1075."

F. W. Dorr's two fine companion maps of Vinalhaven.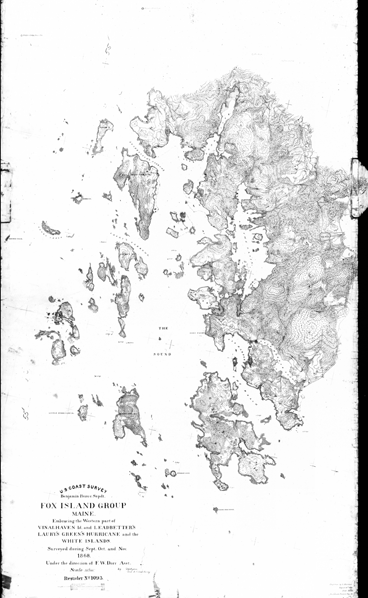 3.3Mb ZIP
"U.S. COAST SURVEY
Benjamin Peirce Supdt.
[WESTERN PART OF]
FOX ISLAND GROUP
MAINE
Embracing the Western part of
VINALHAVEN Id. and LEADBETTER'S
LAURY'S GREEN'S HURRICANE and the
WHITE ISLANDS.
Surveyed during Sept. Oct. and Nov.
1868.
Under the direction of F. W. Dorr Asst.
Scale 1/10.000.
By H. G. Ogden And U. S. Coast Survey
Register No 1093."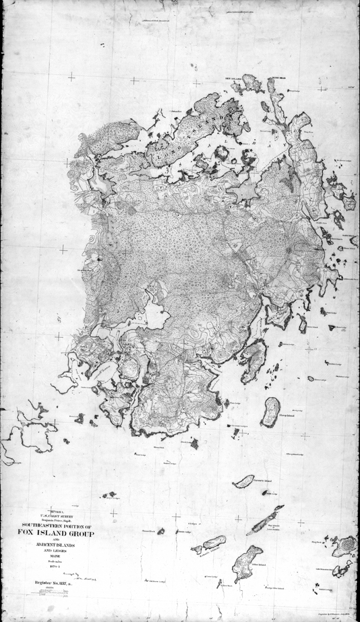 5.1Mb ZIP
"U.S. COAST SURVEY
Benjamin Peirce, Supdt.
SOUTHEASTERN PORTION OF
FOX ISLAND GROUP
AND ADJACENT ISLANDS AND LEDGES
MAINE
Scale 1/10.000
1870-1
Surveyed by H. M. DeWees
Register No 1157,a."

The third, complementary map of Vinalhaven, not by Dorr, but rendered in his style.


---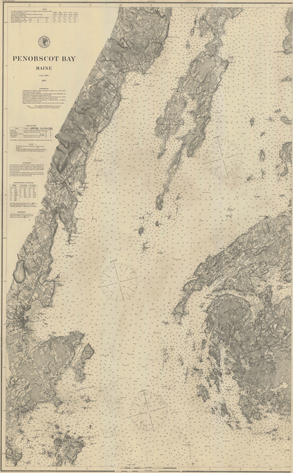 11.8Mb ZIP

"No. 293
UNITED STATES COAST SURVEY
PENOBSCOT BAY
MAINE
Scale 1/40.000
1876
AUTHORITIES
Triangulation by A.D.Bache, Supdt., G.A.Fairfield, J.A.Sullivan and S.C.Mc.Corkle
Assistants, between 1854 and 1862.
Topography by F.W.Dorr, W.H.Dennis and A.W.Longfellow Assists. H.M.De Wees and
J.N.Mc.Clintock Sub-Assistants between 1863 and 1874.
Hydrography by F.P.Webber, W.S.Edwards and J.S.Bradford Assistants, C.Junken
H.Anderson and R.E.Halter Sub-Assistants between 1863 and 1873.
Astronomical Observations (under the direction of A.D.Bache Supdt.) by G.W.Dean
Asst. and S.Harris Sub-Asst. in 1854.
Magnetic observations by G.W.Dean and Chas.A.Schott Asst. in 1854 and 1863.
Issued 1876 CARLILE P.PATTERSON Superintendent.
Verification by J.E.Hilgard Assistant in charge of Office."


The first USCS chart of Penobscot Bay summarized 25 years of intensive, pioneering field work (for example, the detailed 1867-1874 maps above), on which all subsequent Penobscot charts are based to the present day: compare, for example, the soundings here – in feet within the hashed coastal waters and otherwise fathoms (6 feet) – with the latest charts, which are virtually unchanged. To our knowledge, no. 293 is a unique, one-off publication: in the next-following edition of an overall map of the Bay (no. 104, first issued four years later, below), the topographic information is radically revised and simplified — an apparent sea-change to the methodology and goals of USCS — and the chart number is changed.
Only the central portion of the Bay is displayed in no. 293. The eastern sheet of this chart has not survived.
A beautiful example of progressive cartography.


---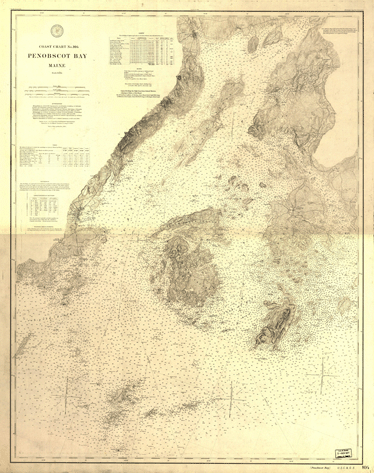 9.9Mb ZIP

"UNITED STATES COAST AND GEODETIC SURVEY
COAST CHART No.104
PENOBSCOT BAY
MAINE
Scale 1/80.000
AUTHORITIES
Triangulation by A.D.BACHE Superintendent G.A.Fairfield J.A.Sullivan S.C.McCorkle
F.W.Dorr and F.W.Perkins Assistants between 1854 and 1874.
Topography by A.W.Longfellow F.W.Dorr W.H.Dennis C.Hosmer Hull Adams C.T.Iardella
Assistants J.N.McClintock and H.M.DeWees Sub-Assistants between 1863 and 1875.
Hydrography by F.P.Webber H.Anderson C.Junken F.Cordell R.E.Halter J.S.Bradford
Lieuts. J.M.Hawley and J.F.Moser U.S.N. Assistants between 1863 and 1879.
Astronomical observations under the direction of A.D.Bache Superintendent by G.W.Dean
Assistant and S.Harris Aid in 1854.
Magnetic observations by G.W.Dean and C.A.Schott Assistants in 1854 and 1863.
Issued October 1880 CARLILE P.PATTERSON Superintendent
Verification by J.E.Hilgard Assistant in charge of Office."


The second USCGS chart of Penobscot Bay. Topographic data is presented in a new, less detailed format. When no. 104 was superseded sometime after 1911, the artistic flourishes and the integration of topographical with nautical data were abandoned altogether.


---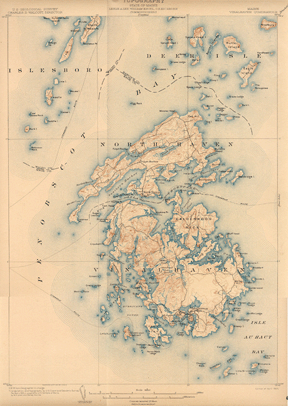 4.3Mb ZIP


"TOPOGRAPHY
MAINE, VINALHAVEN QUADRANGLE
U. S. GEOLOGICAL SURVEY, U. S. COAST AND GEODETIC SURVEY
Scale 1/62500
Revised in 1901, in cooperation with the State of Maine,
by W. H. Lovell and Hersey Munroe
Engraved Sept. 1903 by U.S.G.S.
Edition of April 1904."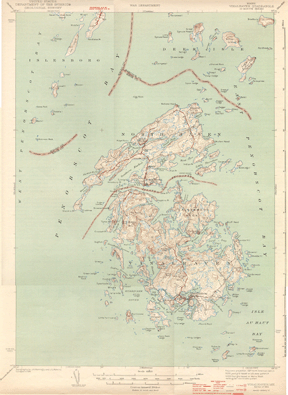 2.5Mb ZIP
"MAINE, VINALHAVEN QUADRANGLE. 15-MINUTE SERIES
UNITED STATES DEPARTMENT OF THE INTERIOR GEOLOGICAL SURVEY
WAR DEPARTMENT
Scale 1/62500
Topography by J. A. Mattingly and J. L. Watkins
Surveyed in 1941
Edition of 1944."
---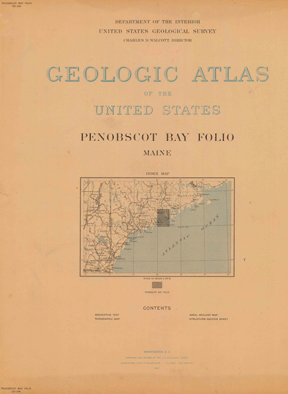 .6Mb ZIP Frontispiece and Index map.

"GEOLOGIC ATLAS OF THE UNITED STATES
PENOBSCOT BAY FOLIO, MAINE
DEPARTMENT OF THE INTERIOR, UNITED STATES GEOLOGICAL SURVEY
Index Map
Scale: 40 miles=1 inch
Penobscot Bay Folio No. 149
Washington, D.C.
Engraved and Printed by the U. S. Geological Survey
1907"


The Geologic Atlas' Penobscot Bay Folio of 1907 contains an extensive Description of the Penobscot Bay Quadrangle by George Otis Smith, Edson S. Bastin, and Charles W. Brown, together with three engraved sheets (below), certainly the most beautiful cartography of this locale.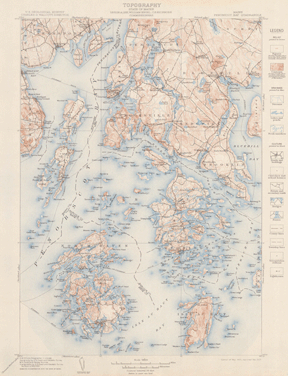 3.8Mb ZIP Topography map.
"TOPOGRAPHY
MAINE, PENOBSCOT BAY QUADRANGLE
GEOLOGIC ATLAS OF THE UNITED STATES
Penobscot Bay Folio No. 149
Scale 1/125000
H. M. Wilson, Geographer in charge
Topography and Triangulation by U. S. Coast and Geodetic Survey,
W. H. Lovell and Hersey Munroe.
Surveyed in 1900-1903.
Edition of May 1905, reprinted Feb. 1907."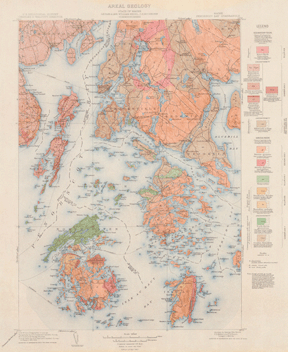 4.1Mb ZIP Areal Geology map.
"AREAL GEOLOGY
MAINE, PENOBSCOT BAY QUADRANGLE
GEOLOGIC ATLAS OF THE UNITED STATES
Penobscot Bay Folio No. 149
Scale 1/125000
H. M. Wilson, Geographer in charge
Topography and Triangulation by U. S. Coast and Geodetic Survey,
W. H. Lovell and Hersey Munroe.
Surveyed in 1900-1903.
Geology by George Otis Smith, E. S. Bastin, and C. W. Brown
Surveyed in 1902-04.
Edition of Mar. 1907."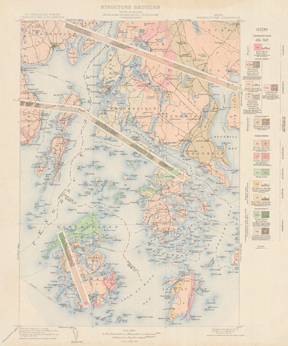 3.5Mb ZIP Structure-Sections sheet.
"STRUCTURE SECTIONS
MAINE, PENOBSCOT BAY QUADRANGLE
GEOLOGIC ATLAS OF THE UNITED STATES
Penobscot Bay Folio No. 149
Scale 1/125000
H. M. Wilson, Geographer in charge
Topography and Triangulation by U. S. Coast and Geodetic Survey,
W. H. Lovell and Hersey Munroe.
Surveyed in 1900-1903.
Geology by George Otis Smith, E. S. Bastin, and C. W. Brown
Surveyed in 1902-04.
Edition of Mar. 1907."
---
Comments, criticisms, and suggestions are welcome.
LastRev.20 Nov 2018 R.J.Holmgren